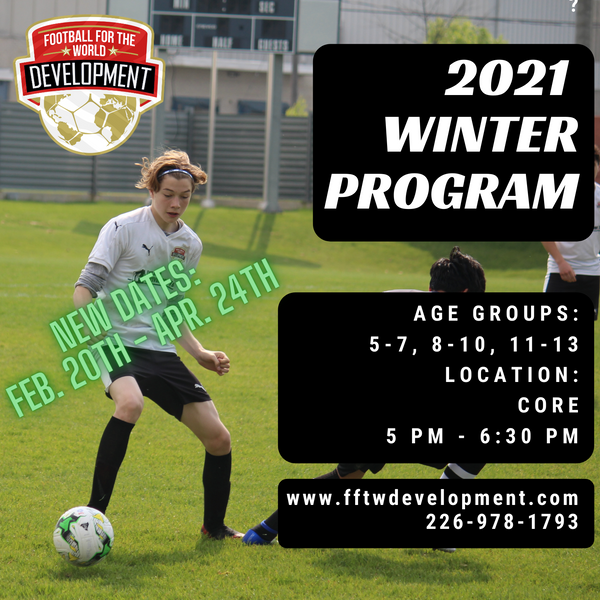 Soccer Academy & Camps - Kitchener, Waterloo, Cambridge - FFTW Development
WINTER PROGRAM - WEEK 1
We are very happy to be back on the pitch after a long break and were very pleased to see all the players on Saturday for their first session. 
Going forward, all players and parents can view these blog posts to revisit what they learned during each Winter Program Saturday training session. This will give the players (and parents) an additional ability and reminder to keep working and practicing on the techniques/skills they learn each week allowing players to retain what they have learned at a higher level.
Each week, you will see the Coaching Points provided for each age group and a small paragraph or two with a review from that specific age group's coach. If you have any further questions to understand a coaching point in more detail or want to ask a coach a question, you can do so by emailing us at info@fftwdevelopment.com.
WEEK 1 TOPIC for all 3 Age Groups - PASSING & RECEIVING
5-7 & 8-10 - Coaching Points:
- 5 Stages of the Inside Foot Pass (Standing foot beside the ball, ankle tight to help with aim and power, use the inside of your foot, strike the ball with the inside of your foot, follow through pointing at your target)
- 3 Keys of Communication (voice, showing with your hand, & eye contact)
- Always on your toes ready to receive the ball even when its not a perfect pass
- Using the inside of your foot to control the ball (again controlling the middle of the ball is key)
- Head up to see where your teammate is
U13 - U15 High Performance Group - Coaching Points:
Additional Points to the above.
- Awareness - checking your shoulders constantly and knowing where your next pass is
- Taking the first touch out of your feet to create space and time on the ball (especially with limited touches on the ball in 7 ball warm up)
- Speed and quality of passes & movement
- COMMUNICATION - you have to make sure the next player who you are passing the ball to knows it is coming - focus on 3 Keys also
- Every pass, should be a clean crisp pass - work on getting your technique back to where it should be
- When receiving with one foot and passing with the other, make sure you take a diagonal touch to make the pass more natural
COACHES COMMENTS:
5 - 7 Age Group - Coach Mo
It was great to have the group back together with some familiar faces and also some new players joining in too! The 5-7 age group did quite well for the first session back after a long time away from the field but there were some main areas that they could all work on.
Those include keeping their ankle tight and working on having a natural run up to the ball. With this being not natural to them as of yet, it will take time to get that natural stride to the ball but keeping their ankle tight is very important to make sure the pass goes where they want it to and with the right amount of power.
One thing they did well was using the inside of their foot but again the weight of pass and direction (how hard they hit the ball) will be something players will need to work on as they develop.
 
Last but not least, their follow through and keeping their balance as they come to run and strike the ball will be something that players will naturally need to learn with their own bodies. Learning how to keep their balance one foot while striking the ball and allowing their foot to go straight through after striking the ball.
8 - 10 Age Group - Coach Mahan
Great first session everyone! The one thing we were very happy with was that the players understood the 5 stages of the Inside Foot pass once the session had concluded. Although we were very happy with this, the one thing all players could work on and improve is keeping their head up. This allows them to see where their partner in and therefore makes the pass more accurate as they know which direction to pass the ball and really focus on their follow through.
For the more advanced players in the group, the main thing will be for them to get their head up as the ball is coming to them so they know where to pass the ball even before they receive it. 
U13 - U15 High Performance Group - Coach Ali
It was a great return back to the field for all players and we were very happy with the effort levels that all players put in. The focus of the first session was focused on two main aspects which included touches and stamina.
The goal was to allow the players to get as many touches back on the ball while also focusing on increasing their fitness and helping them ease their way back to their original fitness levels which of course will take some time.
The group started well but as expected, their passing technique mainly with the inside of the foot was a bit rusty so the main goal for all players come next Saturday will be to get their inside foot pass crisp, sharp and firm on the ground to where they want it to go. Additionally, as players stamina improves, we will be looking for them to not only move the ball quicker but also find space and create space quicker, especially in the activity we did with the 7 ball warm up.
We are happy with the first session and can't wait for next week already. As always, be ready to work!
- - -
Great job by all the age groups and we look forward to seeing you next Saturday.
Next weekend's topic: Ground Control
FFTW Development
Forever Moving Forward